UCU webinar broadcast 29 July 2020.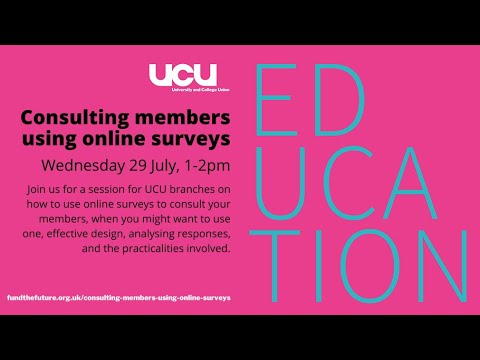 Rachel Remedios – rremedios@ucu.org.uk
Research Officer Bargaining & Negotiations, Bargaining and Negotiations
Edward Bailey – ebailey@ucu.org.uk
Deputy Head of Campaigns, Policy and Campaigns
What are surveys used for and how you can use them in your branch?
Server platforms that are available to you
How to design surveys
GDPR – some details but detailed discussion beyond the scope of this session (get in touch for specific queries or for advice on your comment or the operation of the survey)
Ed Bailey – key areas covered
Online surveys present as a series of forms to the survey participant which can be used to collect data, opinions and votes. The forms are easy to design and have a rich set of options such as text boxes, multiple choice radio buttons and combo boxes.
They can be used for simple questions in consultations such as "Do you accept the managements proposals?" Yes/No" to complex textual answers and combinations of the two.
Also useful for information gathering, event registration, opinion gathering, petitions and open letters.
Sometimes for elections for branch officer roles (please consult UCU advice on continuing democracy in UCU under Covid )
NB – Surveys cannot be used for ballots for industrial action as they do not meet the legal requirements of the Trade Union Act 2016.
Many academics use surveying in the course of their work, so ask among your members for expertise if you do not personally have it. It is a good way to use the resources of your branch and get people involved.
UCU at Carlow Street has some capacity for creating and running surveys but please talk to your regional; office in the first instance.
Surveys
Show we are listening, are used to find out what matters to members, get better results in terms of participation, are useful for making decisions, strengthen our hand in negotiations, are useful for split campuses and to overcome problems of geography.
Ed gives useful examples of showing support of members and strengthening your hand in negotiations
Example Platforms
Look out for – limits on numbers of participants, numbers of questions, options for analysing data, customisation, limited question types. Often only paid surveys offer conditional questions or "skip logic", not all have options for anonymity, consider data export options.
SurveyGizmo – used at head office, free version limited to 100 responses, no conditional questions, no support, no customer branding. Paid for version £20 per month.
SurveyMonkey – used by head office previously. UK based, free version limited to 100 responses. Paid for version £25 per month.
Google Forms – widely used, free, no limits on responses, simple, no conditional questions of customisation. Output to spreadsheet only. Can also use MS Forms available as part of Office 365.
Jisc – education survey tool, slightly cheaper than other paid for options. Free 30 day trial.
Survey Legend
Paid version is £12 per month. 3 surveys but unlimited responses for free version.
Complete links to survey software mentioned in this talk https://www.ucu.org.uk/media/11042/Survey-software-comparison/pdf/Choosing_a_survey_platform.pdf
Rachel gives a thoroughgoing explanation of designing and implementing surveys and some background to Data Protection considerations.
The Regional Office for the South West can be reached at exeter@ucu.org.uk please contact us in the first instance for advice and support.